Podcast: Play in new window | Download (Duration: 14:10 — 13.0MB)
Subscribe: Google Podcasts | RSS | More
Hi everyone,
Join Graeme and I this week where we discuss podcasts for medical education (& recreation). Find out who Alexander Hamilton was and what our favourite medical podcasts are and our personal take on this topic.
Want to get into some medical podcasts? Get yourself a good set of earphones, go onto your iphone and into the purple podcast icon (sorry Samsung and Android users Graeme and I can't help you there):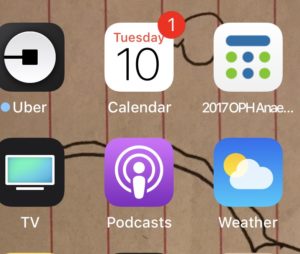 Here are some of our favourite podcasts (in no particular order):
EMCRIT – Critical care and emergency medicine from NY City
ACCRAC – Anesthesia Critical Care Reviews and Commentary – From John Hopkins in the US
COG – conversations in Obstetrics and Gynaecology – From Queensland
BBC History – No Medicine here but Graeme loves it.
The Curbsiders – Internal Medicine topics in depth from the US
EDECMO – Cutting edge use of ECMO for cardiac arrest and critical care
Intensive Care Network – From The Alfred Hospital in Melbourne – gold!
Obsgynaecritcare – subscribe and give these guys a good review please!
To finish the podcast we have a quiz, a blood gas result which is posted below. I asked Graeme to read this out & briefly describe it to listeners – however he gets a little carried away and lets the cat out of the bag so I have had to censor him – I suspect this may not be the last time I have to do this…….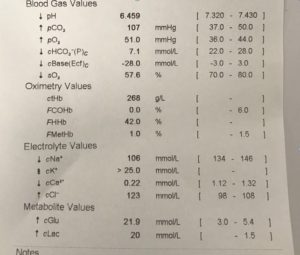 What does this blood gas show?
Please send in your comments – the first to correctly guess will get a mention on the show next week! Sorry we don't have any T-shirts or mugs to give out so the glory of your name in print and on the show will have to do…..
See you next week!