Podcast: Play in new window | Download (Duration: 26:23 — 24.2MB)
Subscribe: Apple Podcasts | Google Podcasts | RSS | More
(*Hypothetical Case)
A 26 yr old woman with a suspected ruptured ectopic pregnancy is rushed to theatre in haemorrhagic shock. The patient has a history of IVDU with a naltrexone implant. The team in the emergency department have been unable to get vascular access. She has a heart rate of 150/min and a BP of 75/45. She is now very distressed and unco-operative from both the abdominal pain but also the repeated painful attempts at vascular access with large needles by lots of different healthcare staff!
Join Graeme and I as we discuss the various different options for gaining vascular access to allow resuscitation, but also induction of anaesthesia so definitive surgery can occur.
We discuss the following various options:
USS guided peripheral IV access
Intraosseous drills
External Jugular peripheral IV cannulation
Internal Jugular peripheral IV cannulation  –  "The Rapid IJ"
Large bore central cannulation (eg MAC line, swan sheath, haemodialysis catheters) – usually Internal jugular (IJ) and subclavian (SC) or Femoral.
Surgical cut-down – saphenous or brachial.
Graeme even discloses that he has trialled unsuccessful sternal intraosseous placement in the past – sounds like an interesting case we should perhaps delve into more detail on at another time!!
Hagen-Pouseille Equation: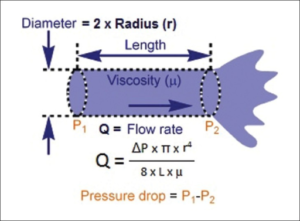 Bottom line – shorter and wider bore catheters are better for rapid fluid resuscitation.
The MAC line – note swan sheath, haemodialysis or other large bore central catheters will also work: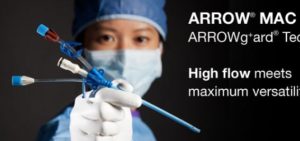 Youtube / Podcasts Discussing this topic:
https://theprocedurescourse.com/blog/
A great course to learn emergency procedures for use in trauma care run by the critical care trauma team at The Alfred in Melbourne. Check out their description of vascular access in particular their detailed description of the technique for emergent placement of the large bore MAC line in the subclavian vein.
2. https://emcrit.org/pulmcrit/hemodynamic-access-for-the-crashing-patient-the-dirty-double/
A great discussion on the placement of large bore femoral catheters.
3. The Rapid IJ – Ultrasound guided placement of a peripheral iv cannula in the internal jugular.
References
A novel "shrug technique" for totally implantable venous access devices via the external jugular vein: A consecutive series of 254 patients. Kagawa T, et al. J Surg Oncol. 2017 Mar;115(3):291-295. doi: 10.1002/jso.24504. Epub 2016 Nov 4.
The intraosseous have it: A prospective observational study of vascular access success rates in patients in extremis using video review. J Trauma Acute Care Surg. 2018 Apr;84(4):558-563.
QUIZ 2
These are ABG's from four different individuals? What do these represent?
First correct answer gets kudos and a mention on the next podcast!