Podcast: Play in new window | Download (Duration: 29:21 — 26.9MB)
Subscribe: Apple Podcasts | Google Podcasts | RSS | More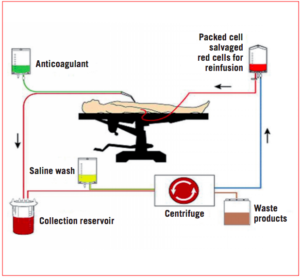 Hi everyone,
Welcome to part 2 of our series on cell salvage in obstetrics and gynaecology!
Last week we had a great discussion on the basics of cell salvage and focused on what the team in the surgical field need to know to do a great job. If you haven't listened to that yet check it out here:
Link
This week we welcome back Dr Matt Rucklidge and we have the recording of the talk he gave our department recently on the latest thoughts surrounding the use of cell salvage in obstetrics. If you haven't been watching this space closely over the last few years you may be unaware that there has been a definite change in approach to many aspects of how obstetric cell salvage is now done. Listen to Matt present a very balanced and thoughtful discussion on the following:
it's ok to be collecting amniotic fluid during cell salvage
the use of only one suction is now routine in many centres
a softening in the stance on the need for use of leukodepletion filters when reinfusing salvaged obstetric blood.
Some of his talk is based on the following recent articles:
RECENT ARTICLES
LATEST VERSION JULY 2018 UK GUIDANCE ON CELL SALVAGE -This is open access and free (hooray!) https://onlinelibrary.wiley.com/doi/full/10.1111/anae.14331
SALVO STUDY  – fulltext (also open access hooray!) :https://www.ncbi.nlm.nih.gov/pmc/articles/PMC5736174/
VIDEO VERSION OF THIS TALK
https://www.dropbox.com/s/x19ximgn0d814rn/Cell%20Salvage%20update%20August%202018.mp4?dl=0
WHAT ABOUT VAGINAL CELL SALVAGE?
Cell salvage for postpartum haemorrhage during vaginal delivery: a case series. Blood Transfus 2017
Is cell salvaged vaginal blood loss suitable for re-infusion? IJOA 2015
ONLINE EDUCATION RESOURCES
National Blood Authority guidelines for intraoperative cell salvage: https://www.blood.gov.au/ics
Great resource from the UK pdfs and free slides on all the various aspects of cell salvage: https://www.transfusionguidelines.org/transfusion-practice/uk-cell-salvage-action-group/intraoperative-cell-salvage-education
WHY SHOULD WE USE CELL SALVAGE?
If you want to revise the benefits of autologous blood (i.e. the patient's own blood) then listen to this earlier episode: