Podcast: Play in new window | Download (Duration: 12:39 — 11.6MB)
Subscribe: Apple Podcasts | Google Podcasts | RSS | More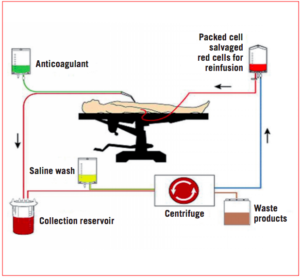 Hi Everyone,
Welcome to part 1 of a two part series on the use of cell salvage in obstetrics & gynaecology!
This week Part 1 focuses on the basics of how cell salvage works and what the staff in the surgical field (nursing and surgical) need to know to do it properly!
Next week we hear from Dr Matt Rucklidge who discusses all the latest controversies and developments in the arena of cell salvage during obstetrics – can we use a single suction, what about amniotic fluid in the collection system, do we always need a leukodepletion filter and how can we organise our practice so that we utilise cell salvage during those unexpected emergency cases?
These two episodes are audio extracts taken from a great combined presentation given at our local department meeting here in August. The audio from these presentations are great but for those of you who are interested in viewing a video version of this talk where you can also see the slides and images referred to in the talk feel free to watch using the link below:
VIDEO VERSION OF THIS TALK
https://www.dropbox.com/s/x19ximgn0d814rn/Cell%20Salvage%20update%20August%202018.mp4?dl=0
ONLINE EDUCATION RESOURCES
National Blood Authority guidelines for intraoperative cell salvage: https://www.blood.gov.au/ics
Great resource from the UK pdfs and free slides on all the various aspects of cell salvage: https://www.transfusionguidelines.org/transfusion-practice/uk-cell-salvage-action-group/intraoperative-cell-salvage-education
WHY SHOULD WE USE CELL SALVAGE?
If you want to revise the benefits of autologous blood (i.e. the patient's own blood) then listen to this earlier episode: